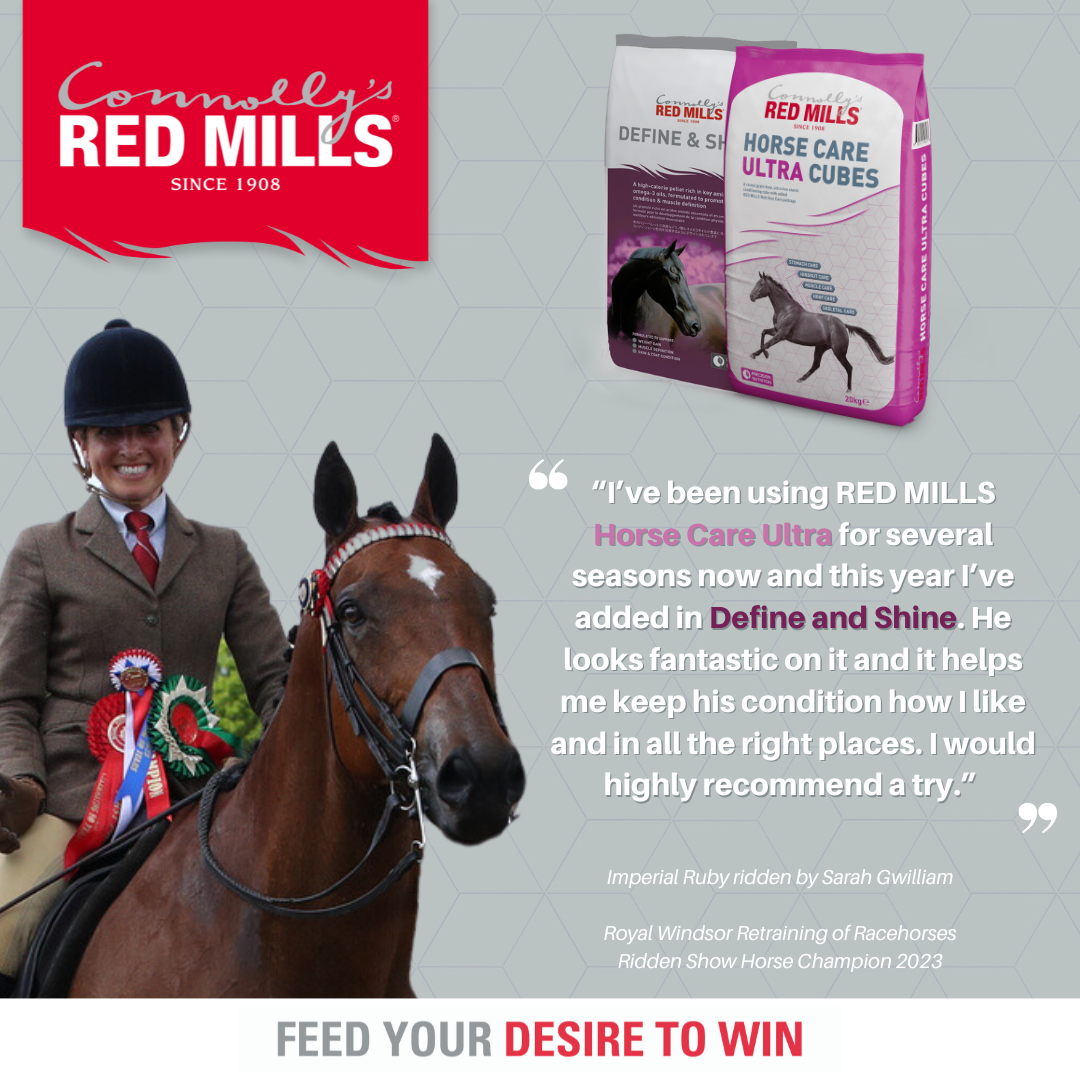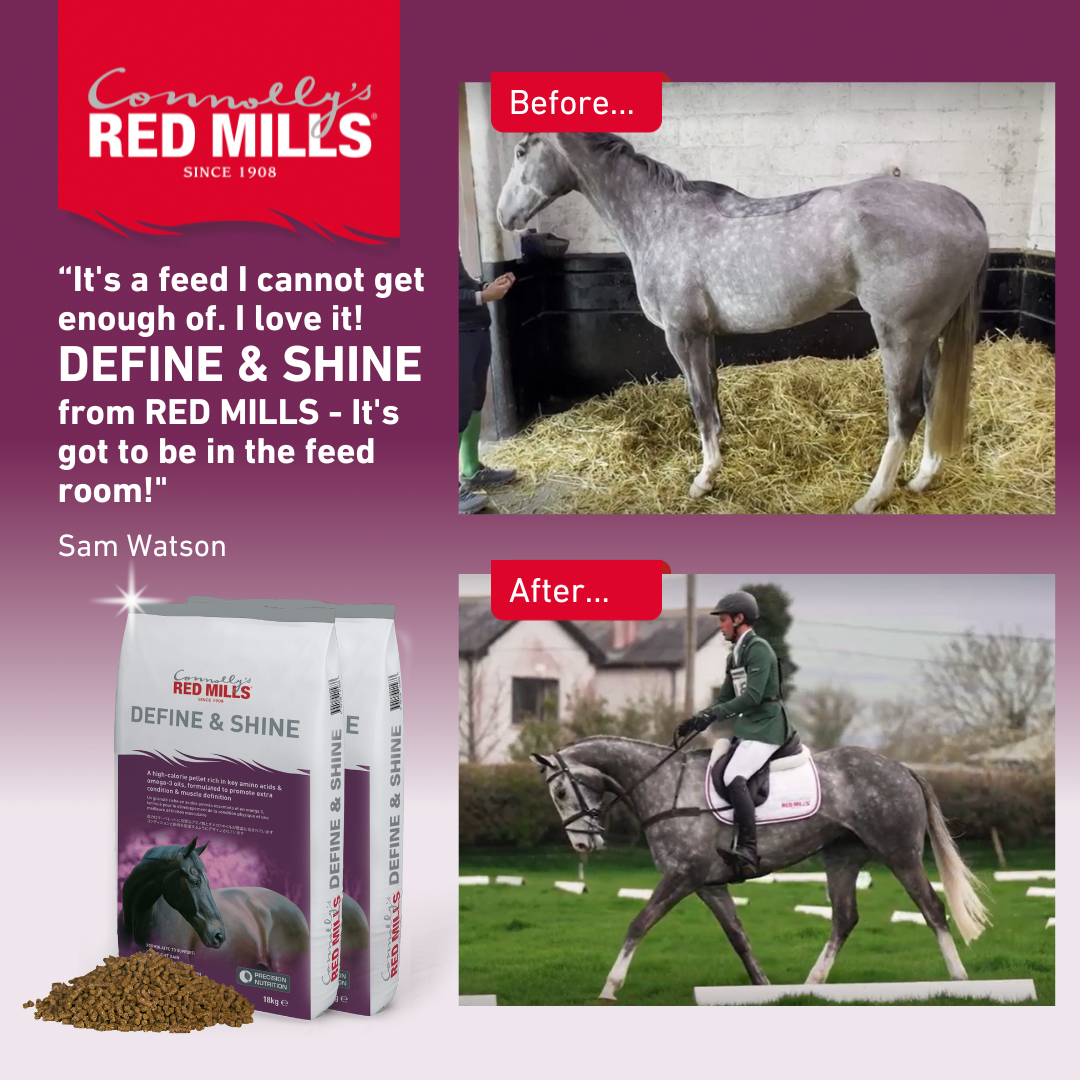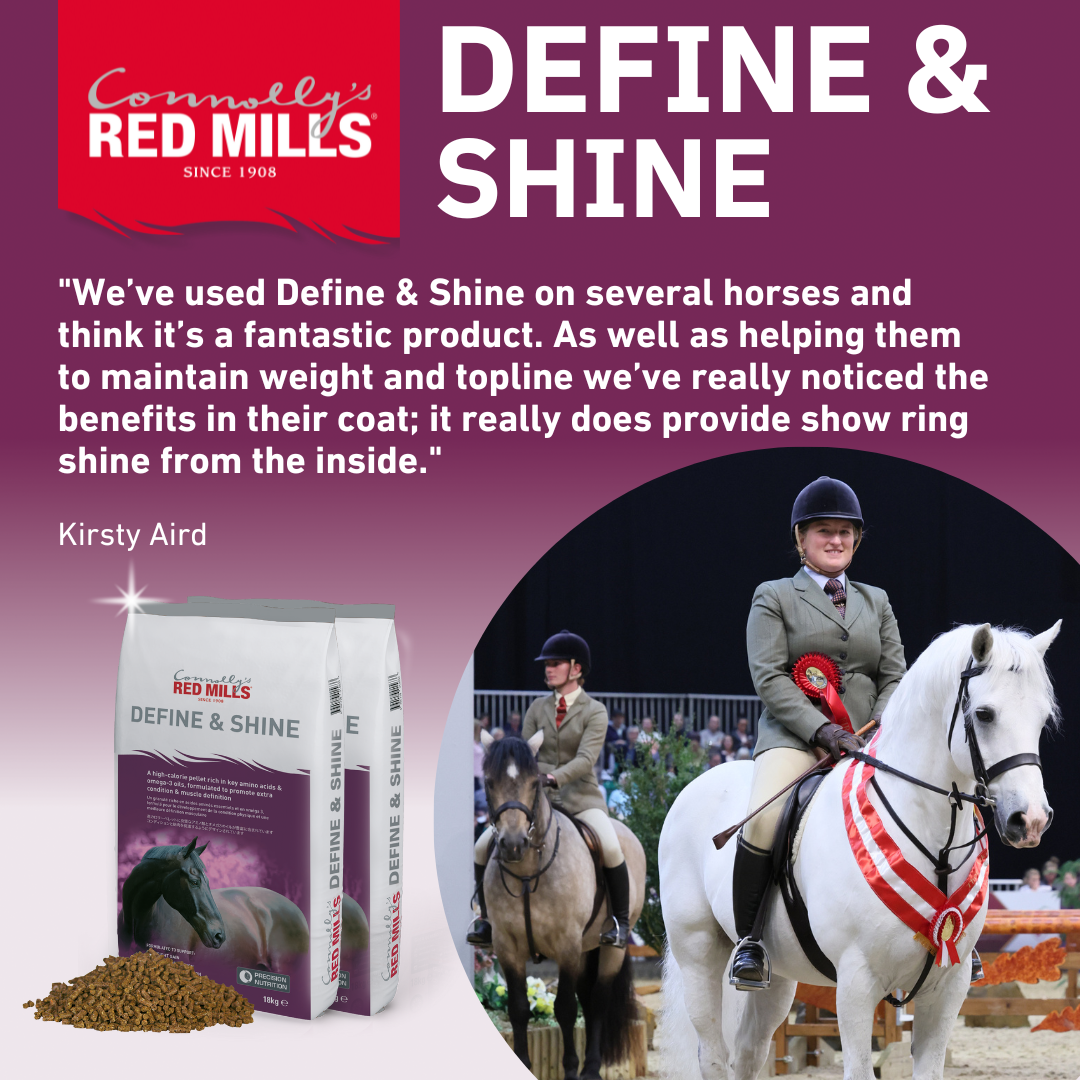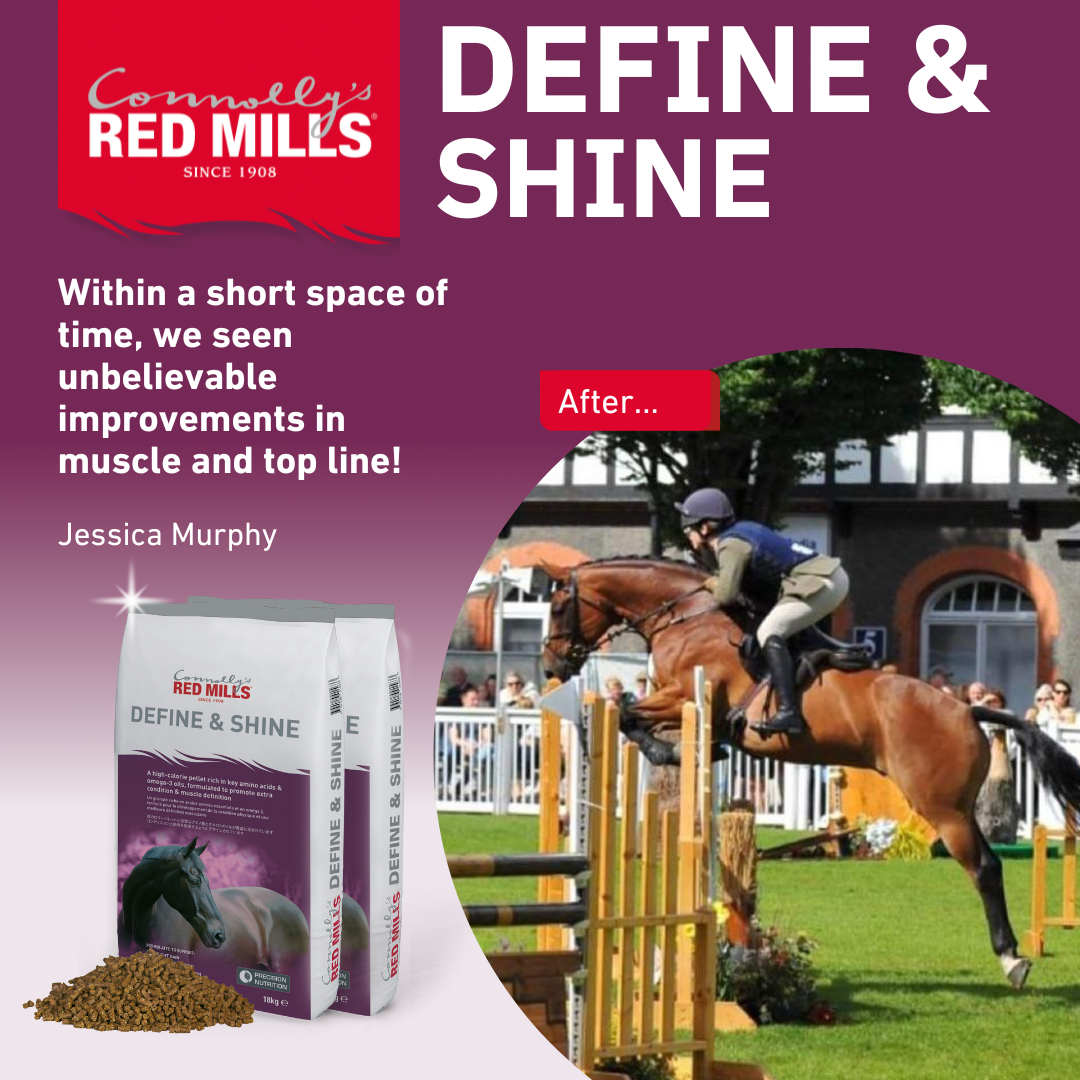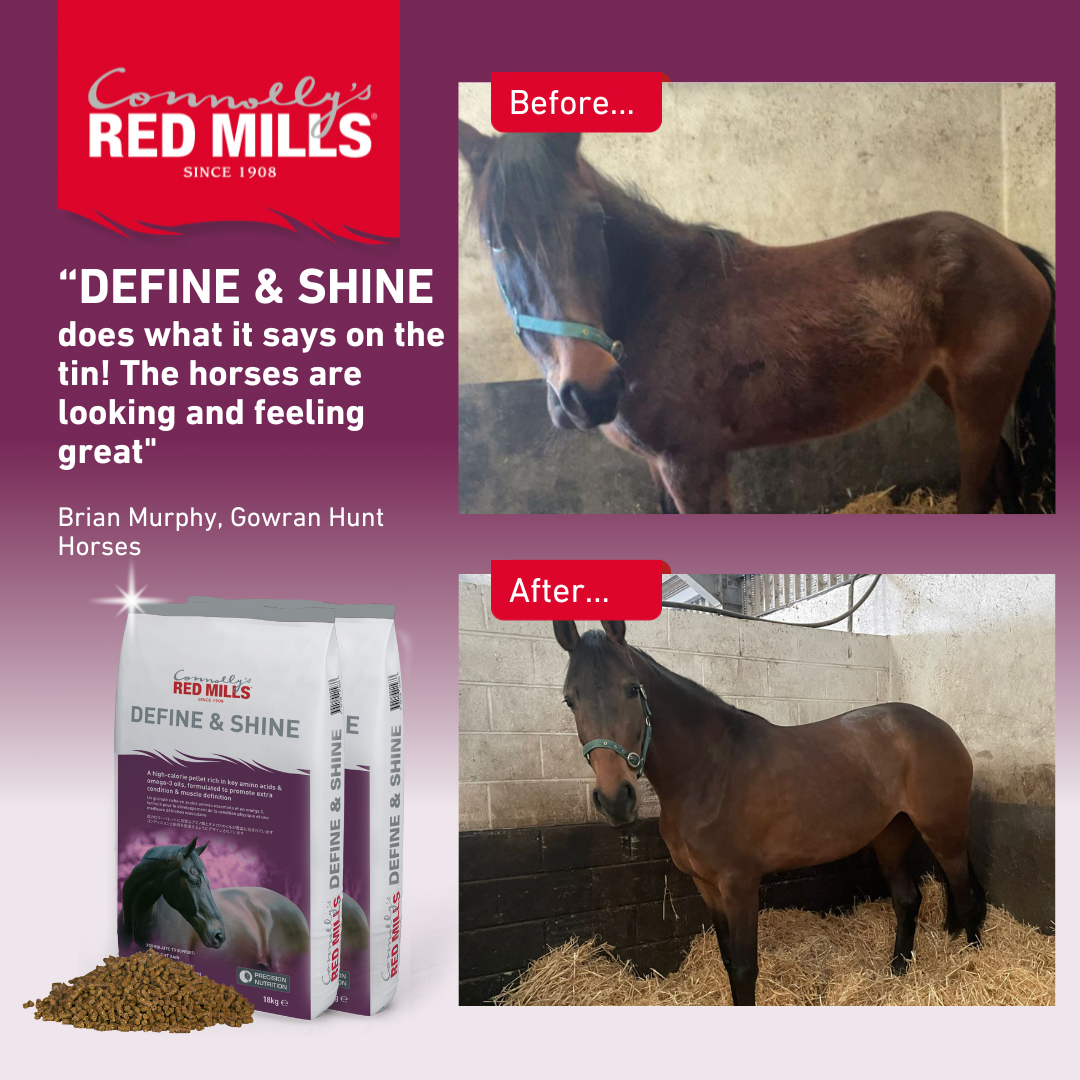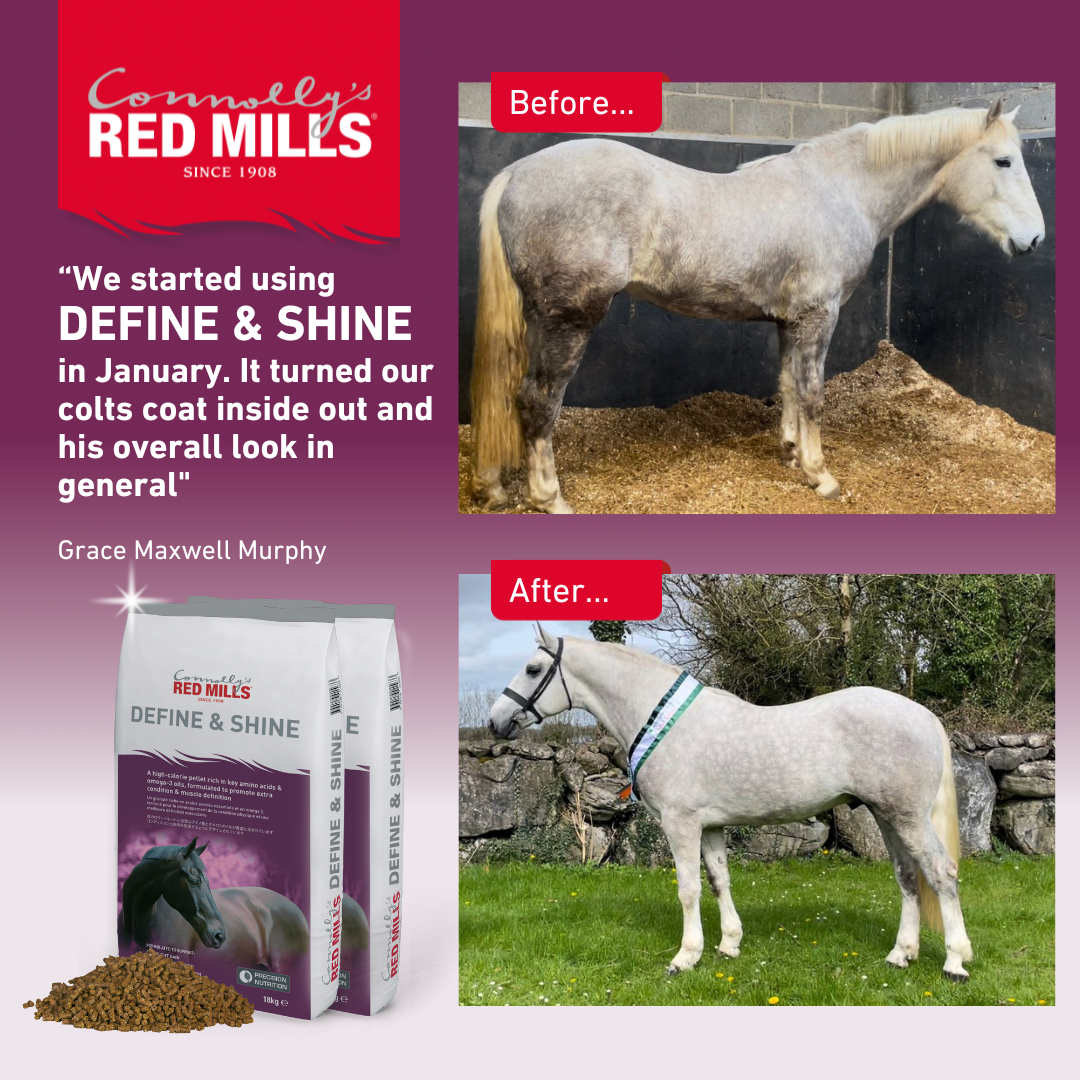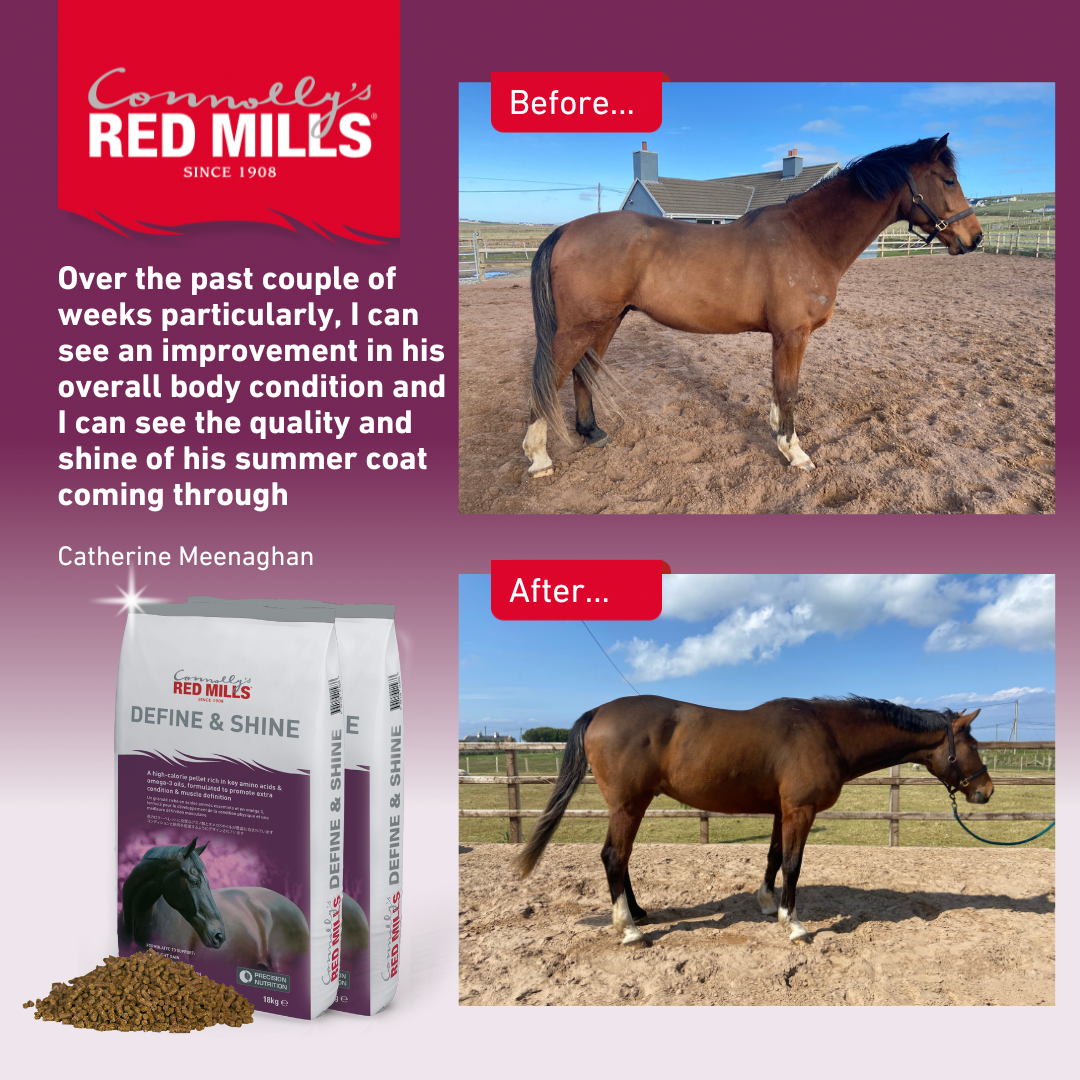 Red Mills Horse Define & Shine 18kg
Pickup available at Cillin Hill
Usually ready in 24 hours
Red Mills Horse Define & Shine 18kg
Cillin Hill
Pickup available, usually ready in 24 hours
Cillin Hill
Kilkenny
R95 EKH4
Ireland
010000000
A high-calorie pellet rich in key amino acids & omega-3 oils, formulated to promote extra condition & muscle definition 
Low Starch, oat-free, high oil, high protein, slow release energy.
Ideal For:
Horses requiring extra calories for weight gain in a small volume

Horses needing additional support for muscle and topline development

Horses needing outstanding coat condition

Horses requiring low starch, non-heating diets 
Specially formulated to support:
Weight gain

Muscle development & definition

Skin & coat health
Features
Low starch, non-heating formulation

Extruded to maximise digestibility

Calories dense; helps keeps meal sizes small

Rich in quality protein including branch chain amino acids (BCAAs)

Contains a blend of oils, including omega-3 fatty acids

Added Vitamin E
Composition
Ingredients: Soya Bean Extruded, Full Fat Linseed, Barley, Wheatfeed, Soya Oil, (Sugar) Cane Molasses, (Sugar) Beet Pulp, Soya (Bean) Hulls, Wheat Flour, Maize, Alfalfa Meal, Soya Bean Meal, L-Leucine 
Feeding Guide
Define & Shine is formulated to be fed as an addition to a fully balanced ration.
Choose your horse's activity and then either select your feeding rate using the per 100 kg bodyweight column, or, if you do not know your horse's exact bodyweight, use the closest column to your horse in by horse weight column.
Horse Activity
400kg
500kg
600kg
Per 100kg Bodyweight
Exercising horses
400 - 800g
500 -1000g
600 - 1200g
100 - 200g
Breeding stock
400 - 800g
500 -1000g
600 - 1200g
100 - 200g
Sales Preparation
400 - 800g
500 -1000g
600 - 1200g
100 - 200g
Youngstock > 4 months
400 - 800g
500 -1000g
600 - 1200g
100 - 200g
Nutritional Information
Analytical Constituents
| | |
| --- | --- |
| Crude Protein | 19.0% |
| Crude Fibre | 7.0% |
| Crude Oils & Fats | 18.0% |
| Crude Ash | 5.0% |
| Lysine | 1.07% |
| Starch | 15.5% |
| Omega-3 Oils | 11.0% |
| Digestible Energy | 15.5 MJ/kg |
Vitamins
Amino Acids
FAQ
Is Define & Shine balanced with vitamins and minerals?
Define & Shine does not contain our Pro Vitamin & Mineral Package but does have added vitamin E. It is designed to be fed in addition to a balanced diet to support horses needing weight gain and condition.
How much to feed?
100-200g/100kg bodyweight - so for a 500kg horse feed 500g - 1kg per day. Introduce gradually as this is a high oil product.
Is Define & Shine suitable for horses needing a low starch and sugar diet such as those prone to gastric ulcers, tying up, laminitis, Cushings?
Yes, because Define & Shine is formulated to be fed in small amounts it is suitable for horses suffering these conditions that need to gain weight and condition.
Does Define & Shine contain cereals?
Like other comparable products Define & Shine does have a cereal inclusion. However, unlike many other products on the market, cereals such as oats or wheat are not the primary ingredient.
Do I need to soak Define & Shine?
No, you don't need to soak it, but you can if you wish. If you choose to soak Define & Shine, it should be fed within 30 minutes of doing so.
Will Define & Shine help with coat condition?
Yes, the high levels of oil in the product will really help promote a healthy, glossy coat.
Can Define & Shine be fed to youngstock & foals?
Yes, it is suitable for all horses and ponies that are 4 months or older.
What are the benefits of the omega 3 fatty acids in Define & Shine?
Ome 3 fatty acids are known for their anti-inflammatory properties and have a range of benefits including skin, coat, and hoof condition and are also known to support joint, immune, and respiratory health.
What are the benefits of the BCAAs in Define & Shine?
Define & Shine contains all three Branch Chain Amino Acids (Lucine, Isoleucine and Valine). These cannot be produced in the body and must be obtained through diet. BCAAs help to preserve muscle mass, limit muscle soreness, and aid recovery.
How much starch does Define & Shine contain?
Define & Shine contains 15.5% starch. This is up to 40% less than other comparable products. Define & Shine only contributes a very small amount of starch to the overall diet; for example, feeding 500g of Define & Shine per day, split across two meals, would give the horse just 0.077g of starch per kg BW/meal. This is well below the 1g starch/kg bodyweight per meal recommended for horses prone to conditions such as laminitis or insulin dysregulation.
How much sugar does Define & Shine contain?
Define & Shine is very low in sugar, containing just 3.9%. To put into context, 500g of Define & Shine provides less than 20g sugar (approx. 1 1/2 tablespoons), which is a very small amount: the same quantity of hay could provide double the amount of sugar!