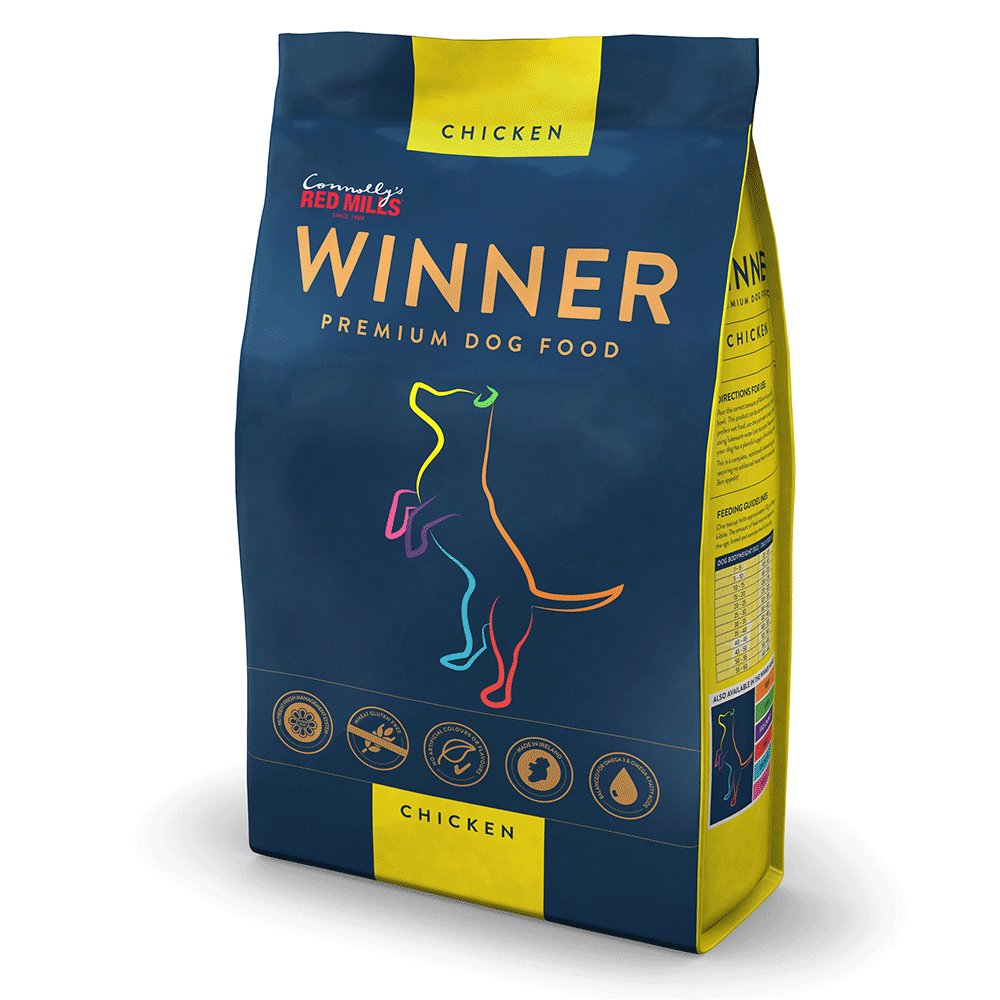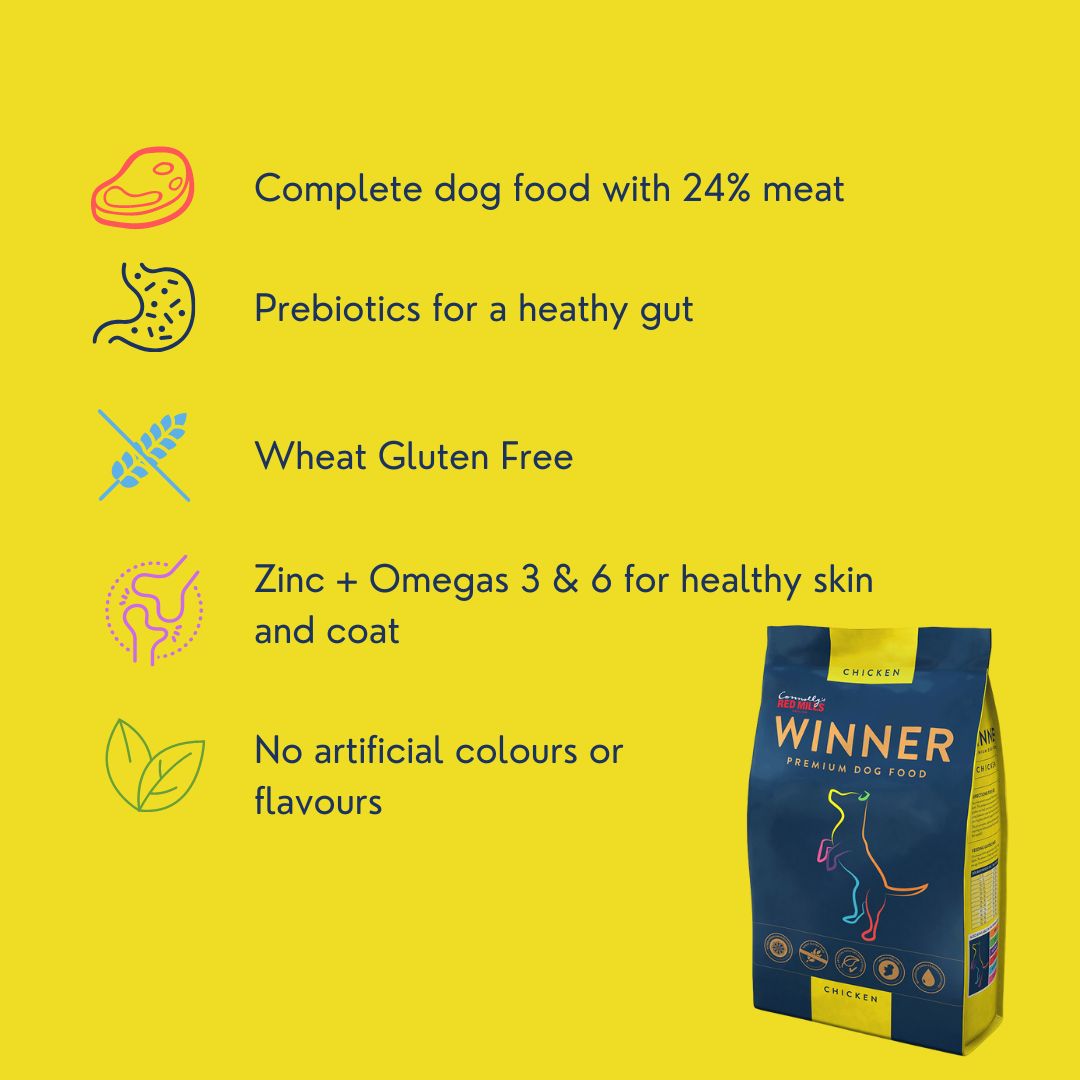 Winner Chicken
Pickup available at Cillin Hill
Usually ready in 24 hours
Cillin Hill
Pickup available, usually ready in 24 hours
Cillin Hill
Kilkenny
R95 EKH4
Ireland
010000000
Quality Protein for Strong Muscles, Minerals for Strong Teeth & Bones, Omega Oils for Healthy Skin & Coat
Winner Chicken has quality protein food for strong muscles, minerals for strong teeth and bones, omega oils for healthy skin and coat.
Rich in tasty Chicken, this carefully balanced food contains essential minerals for strong teeth and bones, Omega oils to promote a glossy coat and is free from artificial colours, flavours and wheat gluten. Taste tested by our own dogs, this is sure to get tails wagging!
Complete dog food with 24% meat
Prebiotics for a heathy gut
Wheat Gluten Free
Zinc + Omegas 3 & 6 for healthy skin and coat
No artificial colours or flavours
Feeding Guide
| | |
| --- | --- |
| Body weight | Daily feed |
| 1kg - 5kg | 35g - 105g |
| 5kg - 10kg | 105g - 165g |
| 10kg- 15kg | 165g - 230g |
| 15kg - 20kg | 230g - 275g |
| 20kg - 25kg | 275g - 320g |
| 25kg - 30kg | 320g - 365g |
| 30kg - 35kg | 365g - 430g |
| 35kg - 40kg | 430g - 480g |
| 40kg - 45kg | 480g - 520g |
| 45kg - 50kg | 520g - 560g |
| 50kg - 55kg | 560g - 600g |
| 55kg - 60kg | 600g - 640g |
The amount of feed required depends on the age, breed and exercise level of your dog.
It is recommended that puppies up to 6 months of age are given at least 3 feeds per day. Provide 1/3 of the total daily amount in the morning, 1/3 at lunch, 1/3 in the evening.
Puppies 6-12 months should be given their daily amount over 2 feeds per day. Provide half in the morning and half in the evening.
For overweight dogs, please use the target bodyweight when selecting the daily feeding amount.
Directions for use:
Pour the correct amount of Winner into your dog's bowl.
This product can be served wet or dry. If your dog prefers wet food, use one part water to two parts feed, using lukewarm water (not hot water). Always ensure your dog has a plentiful supply of fresh drinking water.
This is a complete, nutritionally balanced dog food, requiring no additional mixer feed or canned meat. Bon appetit!
About Winner
Winner is our affordable lifestyle pet food range! With options for all kinds of dogs, it's the ideal diet for the family pet, with an incredible host of great ingredients and benefits, all at an purse-friendly price point.
Winner is available in 3kg and 15kg bag options, and caters to your pets no matter their life stage or particular needs. It's the perfect range for keeping to the family budget while still ensuring that your pet is availing of a high-quality food, made by people who care.
Great dog food
I have fed my dogs which includes raising a springer spaniel puppy on red mills winner dog food for the last few years. Coats a nice, poos are formed, no skin or tummy issues.. it did take a few weeks to change the dogs over to the food but once they did I've been happy since..
Winner Winner Chicken Dinner
Our Viszla has tried the Winner Chicken now for 2 months and is very happy to eat it all up
Excellent food
All my dogs love Winner food. They like the mix up between chicken flavour and beef flavour. Would highly recommend!